Customizable Workflows & Forms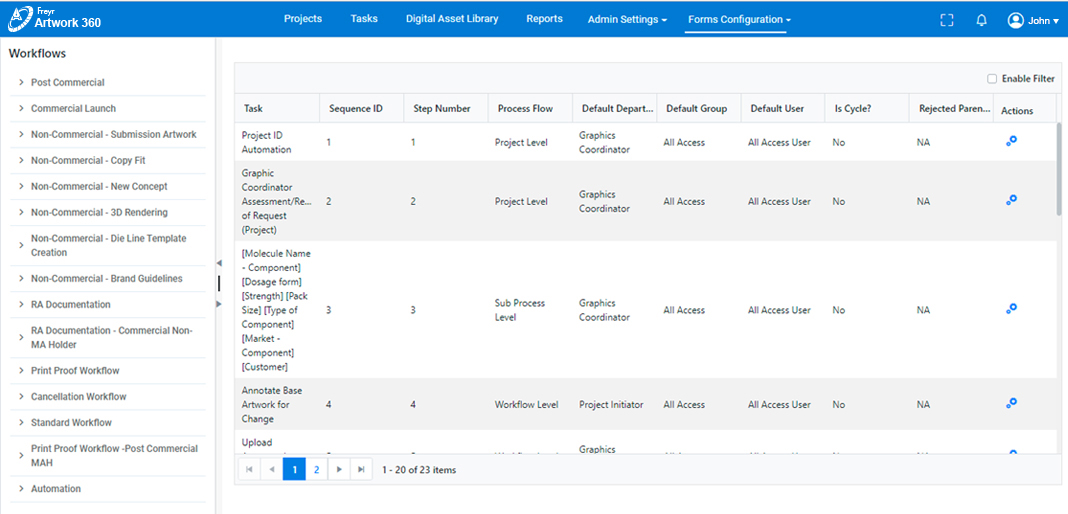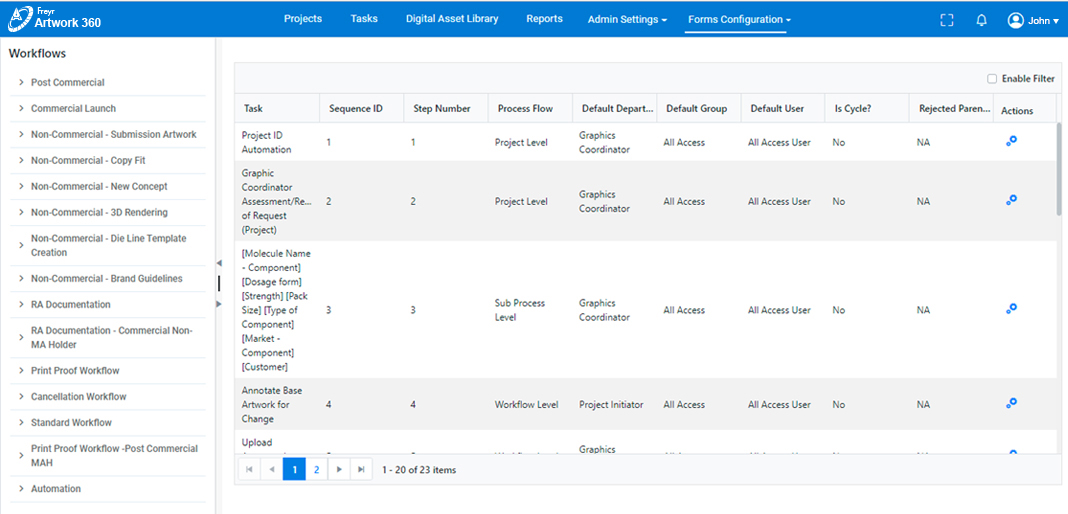 Packaging requires various sets of approvals in large companies. Workflows are the essence of artwork review, approval processes, and artwork lifecycle management. With strict timelines on production, it becomes necessary for an organization to monitor, manage, and execute the processes of artwork workflows.
Freyr Artwork 360 comes with customizable, predefined standard artwork workflows available for your business processes in the same system. It allows users to request information forms, and create and evaluate artwork workflows, once executed. For every workflow, the user can create a separate configuration. It can handle complex workflows, forecast, and track actual dates of resource assignments. It can set and change timelines, oversee projects, create task milestones, and set out of the office with a full audit trail.
It can significantly enhance your organization's performance with clearly defined roles and responsibilities and reduce time-to-market.
Note- Workflow and Request Information form's structure is particular to the client in the Artwork 360 system. It is also feasible to generate different workflows based on the Request subcategory.
Features
Handle Complex Workflows
Forecast and Actual Date Tracking
Resource Assignments
Task Milestones and Dependencies
Approval Coordination
Configurable Business Forms
Email Notifications
"Out of office" Features
Flexible Metadata
Full Audit Trail
Collaboration between stakeholders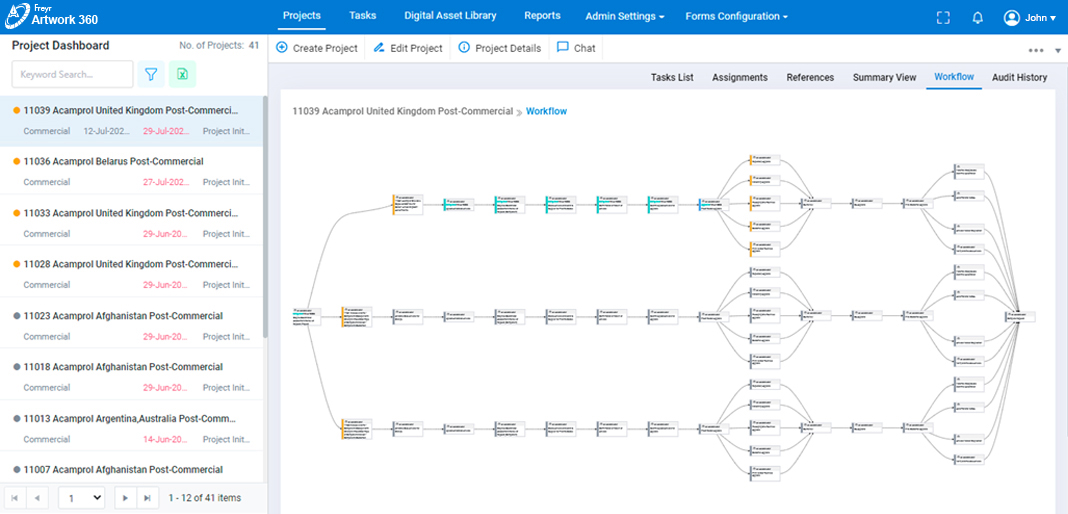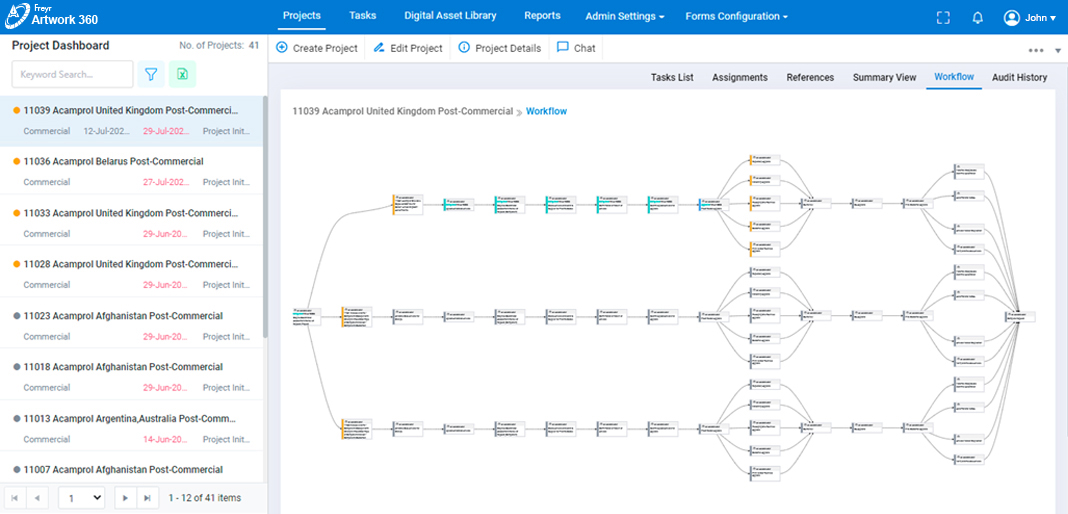 Communication through emails and phone calls does not ease the collaboration among marketing, legal, and finance teams for artwork-related approvals. Since many individuals are representing their departments, and the only common link among these is the design team, it is possible to miss any requests and comments from other teams. If there is an absence of a common communication channel, it can delay and create a mess in the approval process of the product in the market. Thus, a collaborative environment between all stakeholders makes the process seamless. Freyr Artwork 360 gives access to a compatible platform for different departments working together with their domain expertise in producing their information and stands as a place where you can visualize the approved artworks with all transparency.
The life cycle of artwork is complex, and since many teams are involved in the process like Regulatory, quality assurance, etc., it becomes time-consuming for global companies. Due to several markets managing different team requirements, it creates challenges for artwork management.
For organizations, artwork review is a cumbersome process, and research shows that it usually takes more than three (03) weeks to approve an artwork. In such situations, electronically managing artwork and labeling with workflow capabilities is essential for a tool. Virtual label reviews in workspaces, based on current technology, streamline the process of approvals by sending alerts to reviewers. It certainly helps in decreasing costs and reducing the time to enhance the final artwork.
Version Tracking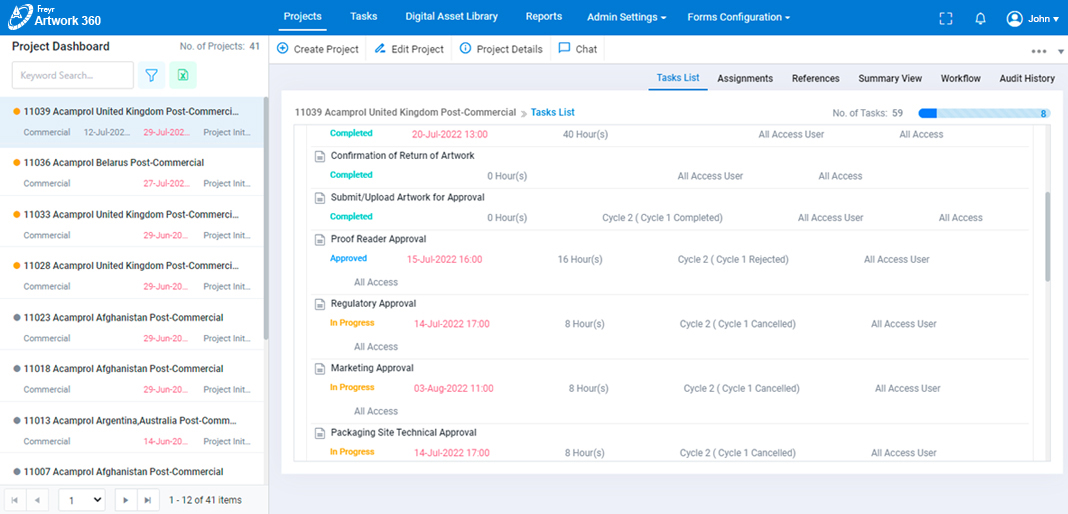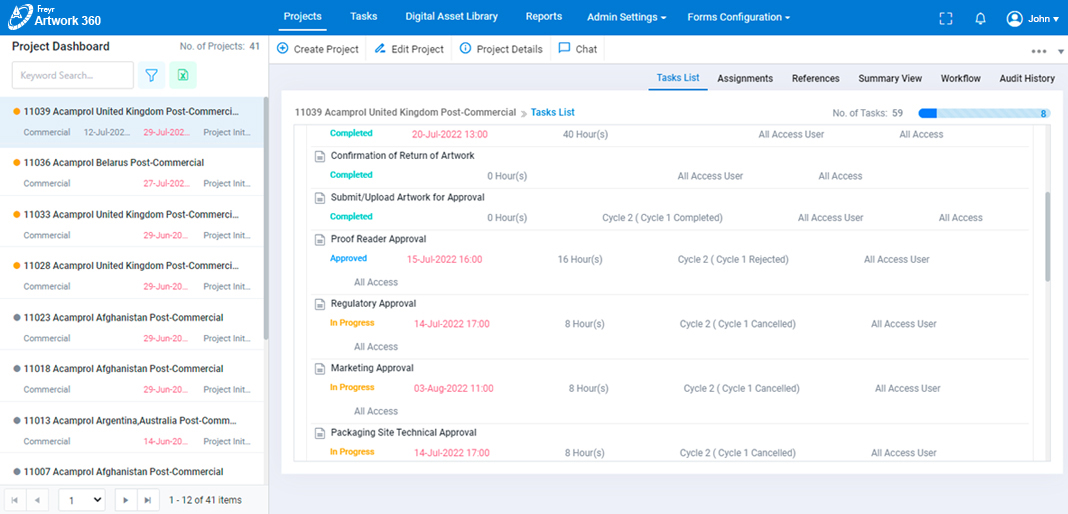 During artwork creation, there could be times when teams are working on several other projects. Thus, it necessitates keeping track of artwork file versions. If some task is being performed manually, and while saving a document, if it gets overwritten with the previous file, the team loses the old version.
Version tracking allows the organization to keep a history of a design element. Whenever the design gets edited, it saves the version with a time stamp, eliminating the hassle of searching for designs in the database. It gives a clear picture of design iterations and allows the decision-makers to examine the artwork process and .
Version management is important. It is one of the primary features of the artwork management system to keep track of all versions of a particular artwork file.
It is obvious for the brand team to have a lot of concerns as version management regulates all authorizations of new artworks and approvals.
Challenges of Artwork Version Management:
How to track versions in a constantly evolving environment?
How to ensure local versions are in sync with master versions?
How to manage the overlapping Regulatory requirements?
How to manage versions within versions?
Let us understand how one product doesn't equal to one label. People working for artwork are aware, but sometimes, it becomes difficult to explain. If a product has five (05) different pack sizes and is available in fourteen (14) markets with other languages, it will become seventy (70) labels. Likewise, if you have multiple manufacturing locations, the number will gradually go up. Although there are different languages and size variations, every label must synchronize with the master label that includes information like brand name, legal content, information about room temperature, storage, weight, and batch numbers.
As more and more stakeholders are involved in the labeling process, it becomes more difficult for providing inputs and approvals. A few other important parameters are also required to be tracked, such as safety content.
Master the complexities and control versions in an easier way:
Create a single source of truth
Link the content source to the process
Make sure you have search capabilities within the content repository
Implement an automated version of technology to evaluate the functionality
End the loop with automated revises to your content depository
Manage versions within versions by using a database for storage
Review Artwork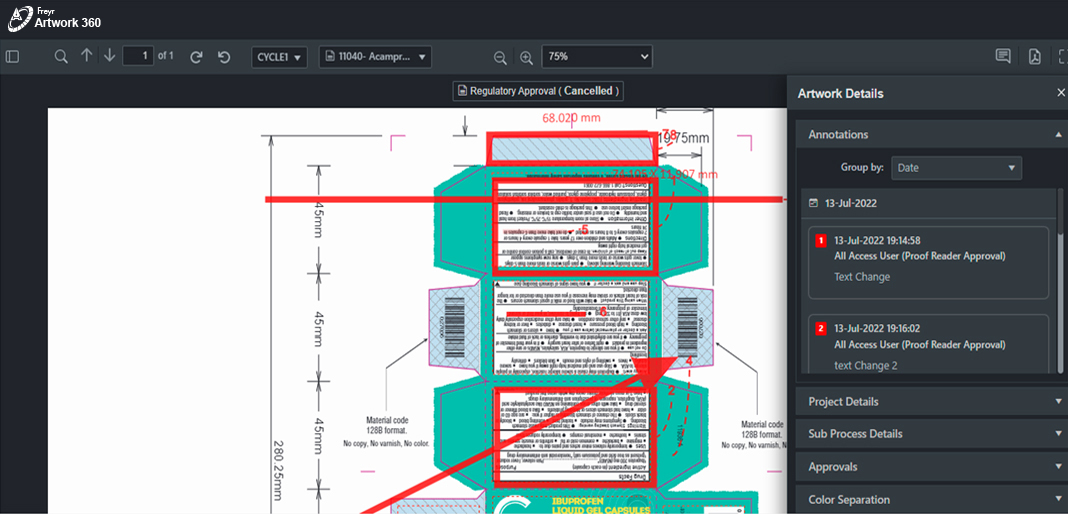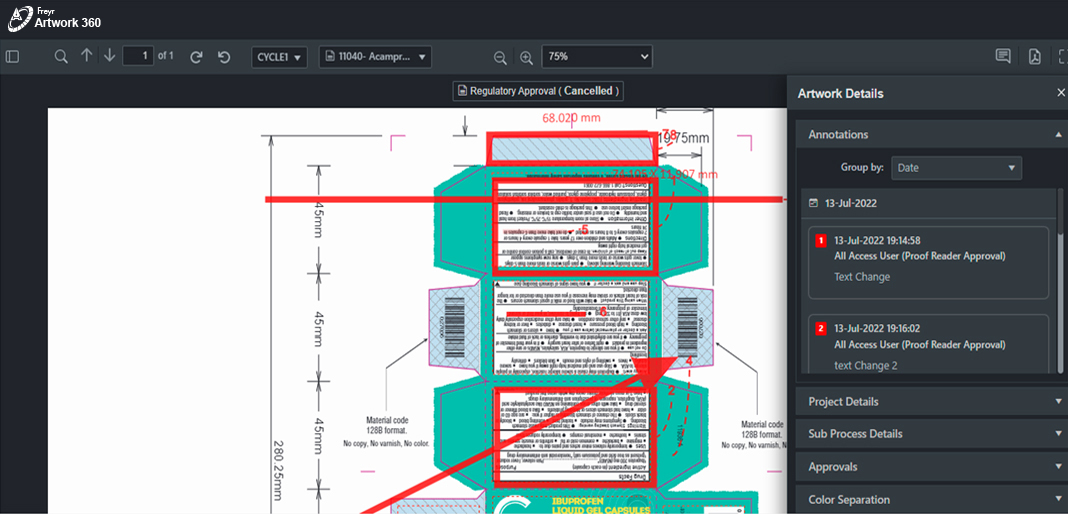 Artwork review is a complex process where inputs from multiple stakeholders are necessary. Artwork approval software helps you streamline the feedback at one place. It lets you invite reviewers, mark changes using annotation tools, and download the approved files. The artwork tool allows you to speed up the approval process by taking feedback from different stakeholders.
With Freyr Artwork 360's online proofing, multiple team members can simultaneously view, compare, and work on a high-resolution, bandwidth-intensive file. It has an annotation tool to collect and record reviews quickly while gathering a trail of comments with usernames. Users can see the comments and respond to them, although it doesn't allow them to delete the comments. It helps the user manage the artwork workflow and uses various collaboration and proofing tools to communicate and validate the artwork.
Freyr Artwork 360 is a secure and web-based solution with no external plug-ins. It is intently designed to improve collaboration and communication to gain complete visibility into review cycles/changes improving content quality.
Features
Secure and Browser-based Proofing
No Plug-ins or Helper Apps
Multi-user and Scalable
View Large Files in Limited Bandwidth
Multi-lingual Annotations
Deep Zoom
Text Compare
Check Barcodes, Fonts, colors, and Content
See Clearly into the Artwork by Hiding Unnecessary Layers
Intuitive User Interface
Digital Asset Library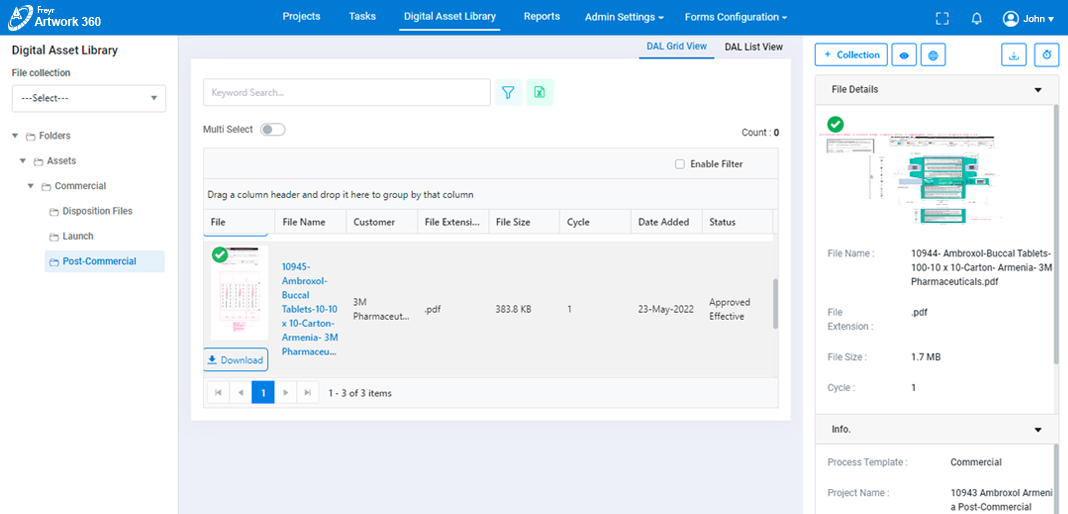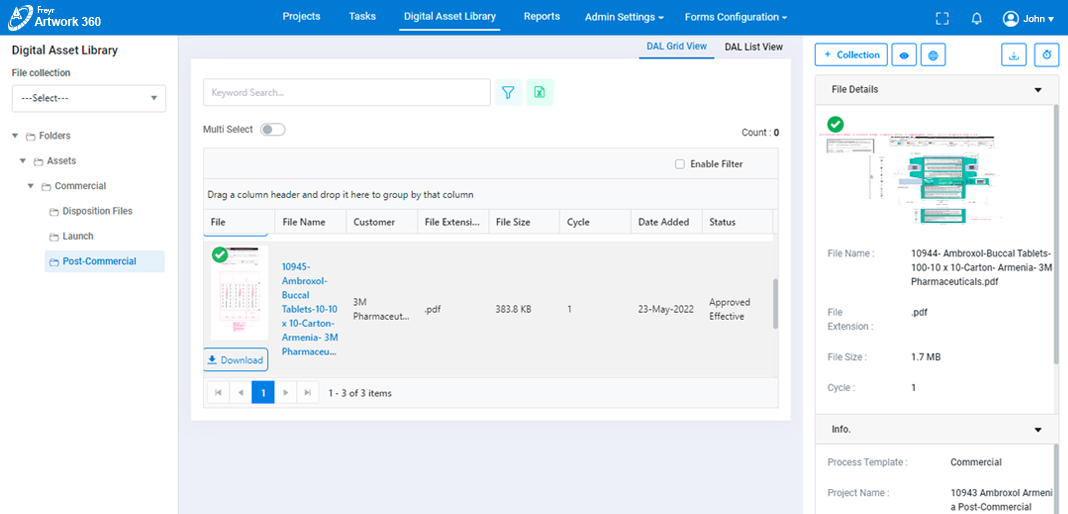 Many organizations face numerous challenges in their efforts to achieve brand assets globally due to the lack of visibility into their brand asset portfolio. Brand consistency is hard to implement throughout the supply chain, and thus, there is no repository for capturing brand assets, product information, and workflows. Automated artwork flow faces all these challenges by creating a central repository and increasing control over all brands, and it has more visibility and good control over its execution.
Leading organizations are implementing an automated process to enhance the consultation process and unite their creative and technical strengths over the life of a product. It also includes the creative and technical information required for "right-first-time" execution.
Artwork Packaging comprises a huge volume of legal and marketing content for various audiences across different channels. A centralized digital asset library stores everything in one place, providing unlimited and flexible metadata tags, filters, searches, and sorts for each project. With Freyr Artwork 360 features like extensive search, version control, and the ability to reuse image assets, you have complete control over enhancing the quality of your brand communication and diminishing business risk. It provides visibility with a full audit history that lets you eliminate chaos, strengthen relationships, and eliminate up to 40% of your creative time spent searching for the right assets.
Features
Metadata Tags, Searches, Filters, and Sorts
Copy Management
Version Control and Traceability, Security, Asset Status, and Viewing
Drag and Drop
Enabling Export Reports
Storage of Any File Type
Share Links with Agencies
Customizable Reports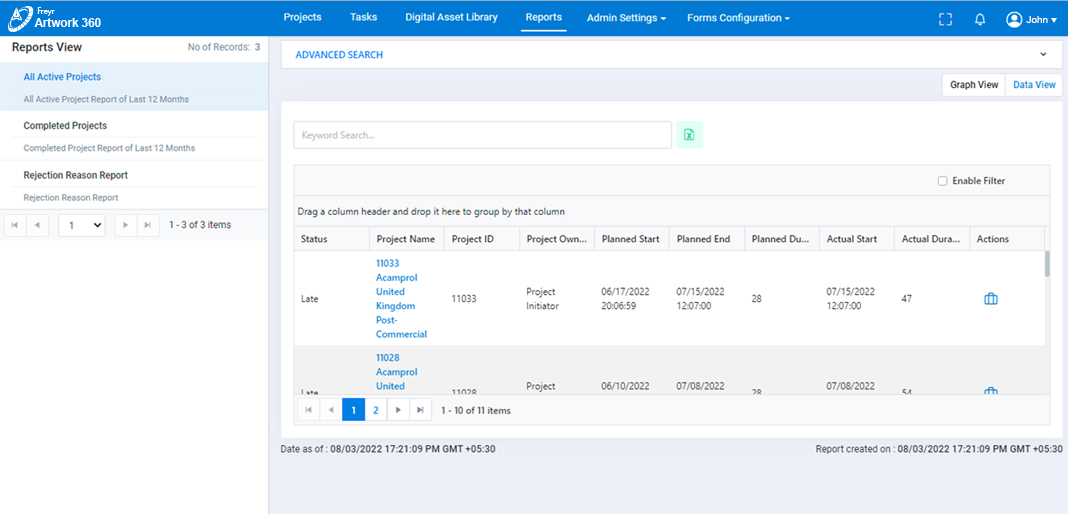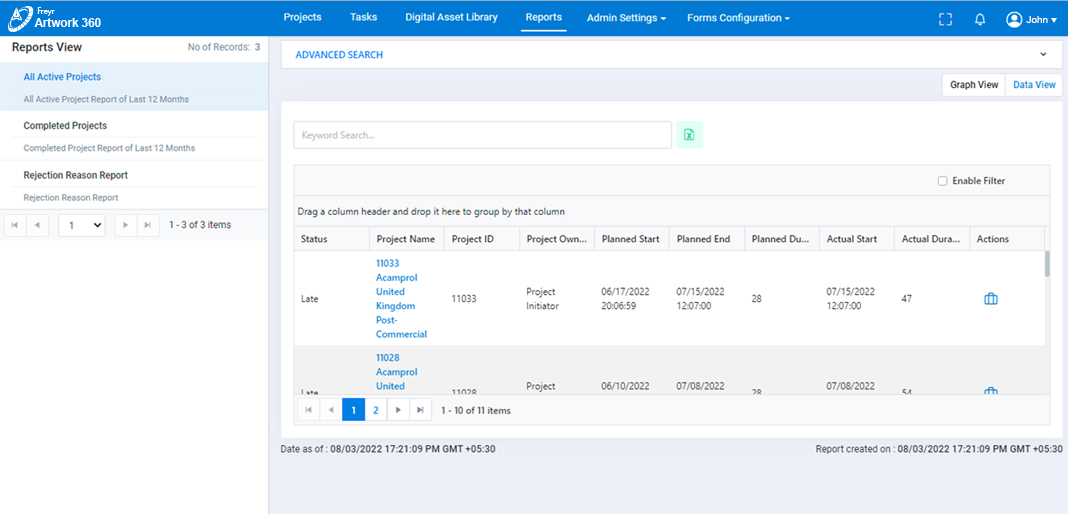 Optimize your artwork management process by understanding your strengths and weaknesses. Freyr's business intelligence allows you to harness the comprehensive data that stays in your workflows and generate reports.
Freyr Artwork 360 allows real-time processing to view your changes immediately for a better overview of your data and analyze the problem by improving your end-to-end artwork process. Artwork 360 is a Regulatory intelligence-driven software solution implementing the industry's latest AI/ML technology. The artwork process includes several steps from initiation to final submission, where we simplified a few steps by automation to save 70% of the time. With a simple approach to the vast data in your artwork workflows, with intuitive dashboards and web-based reports, Freyr Artwork 360 lets you focus on collaboration to gather required information and provides visibility to all stakeholders in the organization.
Features
Web-based Entry to Reports
Interactive User Interface
Configurable Data Views and Interactive Dashboards
Safe Environment
Supports Various Output Formats (HTML, Excel, CSV, PDF, RTF)
Used for Simple Data Extractions
Use the Data Repository for Increased Performance
Re-use Pre-build Reports/Dashboards
Drill-down Ability
Click Access to Data
Fast Results with In-memory Caching
Rich Library for Interactive Visualization